Economic Summit
Thursday, June 15, 2023 (8:15 AM - 10:00 AM) (PDT)
Description
Register at https://www.sjsu.edu/economicsummit/
Please join us for the 2023 Economic Summit on Thursday, June 15, 2023 at 8:15 a.m. The event will be held in the Morris Dailey Auditorium, SJSU campus. Registration will be open from Monday, April 10.
2023 SJSU Economic Summit
The San José State University (SJSU) Economic Summit is an annual event focusing on the analysis and forecast of economic activity at the local, state, and national level. The panelists provide attendees with relevant information to make educated business decisions. The audience is composed of representatives of small and mid-size Bay Area businesses, and members of the SJSU community. The event is free of charge, open to the public and the press.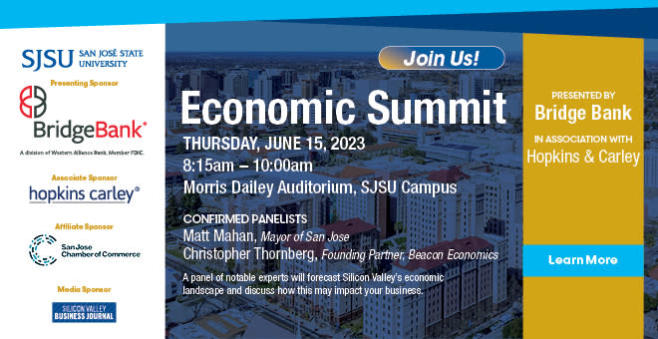 Thursday, June 15, 2023 (8:15 AM - 10:00 AM) (PDT)
Categories
Workshops and Seminars
Member Events
Featured Event